Long Covid: Comprehensive Insights and Expertise in Dallas
What do we know about Long Covid?
Long covid, long hauler's or post acute sequalae syndrome (PASC) as its been called over the last few years is a multisystem condition that can occur weeks after recovering from a covid-19 infection. Even if the infection was mild or asymptomatic, you can still develop long covid. It often causes chronic fatigue, brain fog, taste and smell abnormalities, neuropathies, abdominal pain and bloating, chest pain, and vibration sensations. These are but some of the 203 recorded symptoms. Long covid is also associated with postural orthostatic tachycardia syndrome (PoTS), chronic fatigue (ME/CFS), and mast cell activation syndrome (MCAS), each with there own set of symptoms. Some people continue to suffer from these issues for over 3 years. Dr. Groysman treats long covid daily. He is the leading expert.
Because of the breadth of symptoms and multisystem involvement, it requires extensive experience and knowledge of the mechanisms involved in order to understand how to treat it. This is the where the expertise of Dr. Groysman comes in. While he started treating long covid with a stellate ganglion block (SGB), he has expanded treatments to external vagus nerve stimulation, nicotine patch, prescription medications, supplements, herbals, and IV therapy.
How does COVID virus cause the loss of smell (anosmia) or
parosmia (abnormal smell) and taste?
Because the COVID virus and Long COVID is still relatively new, we are not completely clear yet on how or why the COVID virus causes the loss of smell. Unlike similar colds, this change or loss of smell doesn't occur because of nasal congestion or stuffy nose. Recent findings suggest that this occurs because of a dysregulation of the autonomic nervous system (ANS). This COVID virus can also lead to nerve damage to the nasal receptors of the olfactory bulb near the brain. Impaired cerebral blood flow is another reason from dysautonomia or this dysregulation. Most of the time, these symptoms are self-limited to several weeks or several months. Occasionally, these symptoms can continue to persist for a year or longer.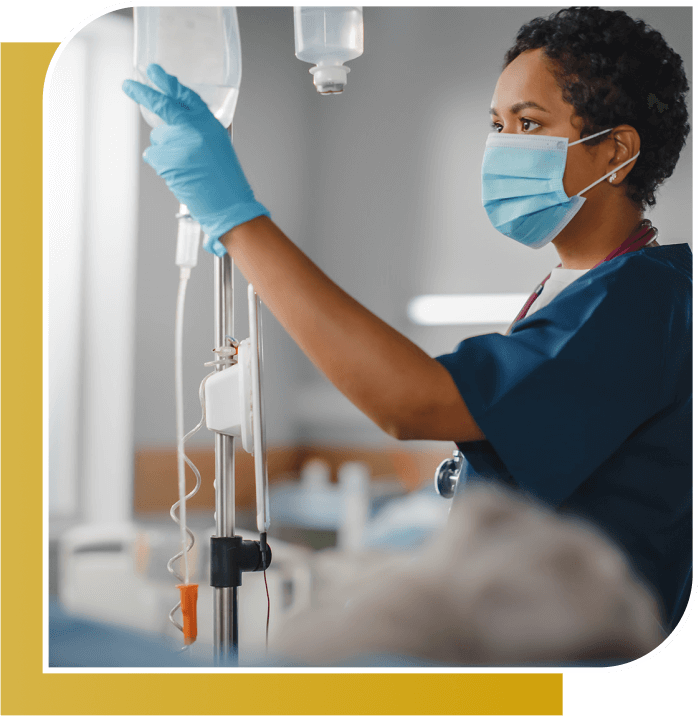 12 points or higher and you have long covid according to this one study
| | |
| --- | --- |
| Symptom | Points |
| Anosmia/Parosmia | 8 |
| Postexertional malaise | 7 |
| Chronic cough | 4 |
| Brain fog | 3 |
| Thirst | 3 |
| Chest pain | 2 |
| Palpitations | 2 |
| Fatigue | 1 |
| Changes in sexual desire or capacity | 1 |
| Dizziness | 1 |
| Gastrointestinal symptoms (nausea, vomiting, bloating, diarrhea, constipation) | 1 |
| Abnormal movements (seizure like activity, tremors) | 1 |
Thaweethai T, Jolley SE, Karlson EW, et al. Development of a definition of postacute sequelae of SARS-CoV-2 infection. JAMA. Published online May 25, 2023. doi:10.1001/jama.2023.8823.
What are the symptoms of long covid?
These symptoms affect several different organ systems, but what do they have in common? The autonomic nervous system. These symptoms overlap in situations where there is a high sympathetic tone and a parasympathetic low tone.
Enter your details and our team will get back to you
If you are international (outside the USA), complete and submit the form, then